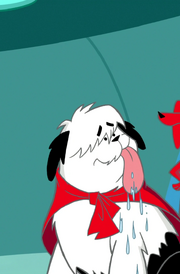 Drooly
is a character in
Krypto the Superdog
and a member of
The Dog Star Patrol
. He is a Old English Sheepdog who can use his drool for grabbing objects, creating bubbles and use them as projectiles.
Drooly's character design is most likely based off of Dum Dum from Hanna Barbera's 1960s cartoon, Touche Turtle.
Ad blocker interference detected!
Wikia is a free-to-use site that makes money from advertising. We have a modified experience for viewers using ad blockers

Wikia is not accessible if you've made further modifications. Remove the custom ad blocker rule(s) and the page will load as expected.